Clean tech is one of the main ways that society can reduce its impact on the environment, particularly in terms of its carbon footprint. Significant sums have been invested in several industries and public policy has subsidised large scale deployments to bring forward the environmental benefits and encourage the development of new industry sectors.
But amongst all the hype, it is often forgotten that the underlying success factors for the Clean Tech industry are the same as any other: the economics need to be competitive with existing technologies or existing ways of achieving the same end. The business model needs to be efficient, scaleable and generate benefits for all stakeholders. And these criteria needs to be met absent of any subsidies and irrespective of the economic benefits of reducing carbon emissions.
One useful way of assessing technologies according to these criteria is to categorise them according to their potential for generating economic benefit when considered as replacements for existing alternatives.
Abatement cost curves are a valuable tool in public policy
The global consulting firm McKinsey has carried out a form of this analysis in a series of reports called "Pathways to a low-carbon economy" in which it publishes global and national "abatement cost curves". These curves display the full range of technologies (on the horizontal axis) that are required to achieve carbon neutrality on a global or national basis. The vertical axis represents the net economic cost (up) or the saving (down) of each technology if applied today.
The latest long-term abatement cost curve (up to 2030) is as follows: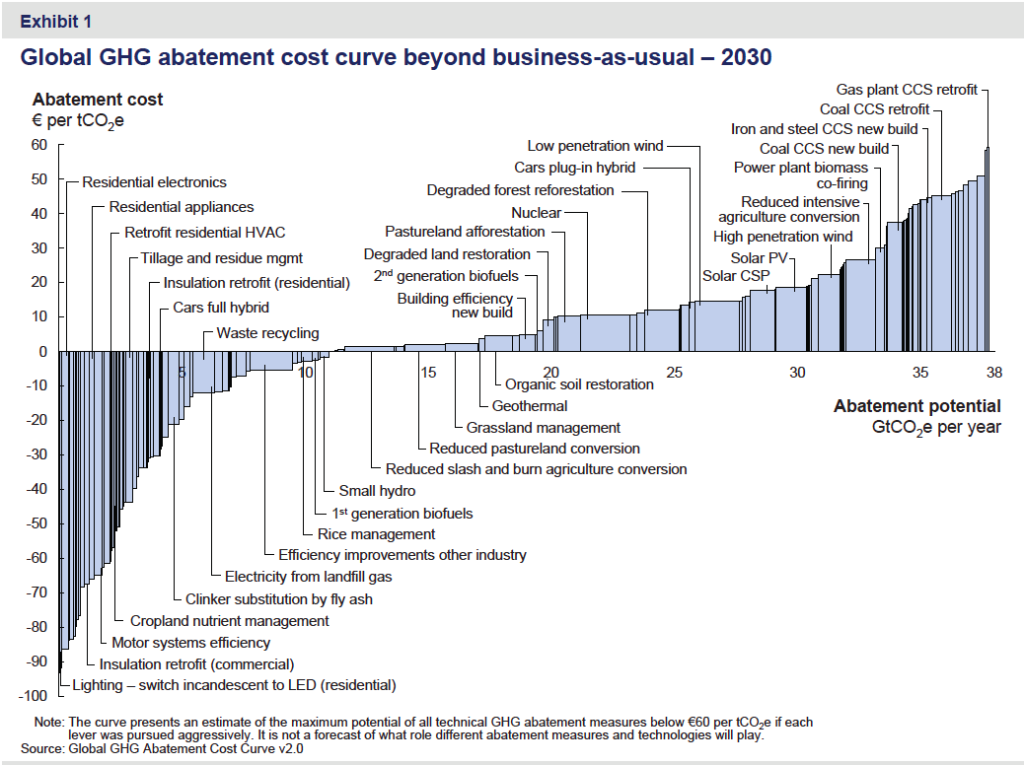 Clean Tech is not as expensive as many believe
It is worth making three observations in relation to this curve:
There is considerable scope for generating substantial economic return by substituting existing technologies for carbon reducing equivalents before we have to implement those that have a net economic cost.
The area within the curve below the x-axis (economic contribution) is similar to the area with the curve above (economic cost) implying that even if we were to attempt to fully deliver carbon neutrality by 2030 this could be at less net cost than many observers believe.
As time passes, the net cost of implementing the technologies above the line will tend to reduce, and in some cases reverse as a consequence of technical refinements, economies of scale, and improved business processes. We are already seeing this trend in action for photovoltaic solar cells, wind power, and high capacity lithium-ion storage.
In other words, many of these technologies offer considerable economic benefits on their own, and even if we decide to attempt Carbon Neutrality at the earliest possible opportunity, the net economic costs are much lower than generally acknowledged.  And of course, the rate of improvement in these technologies in terms of technical and economic efficiency is such that, when their implementation is correctly prioritised, there may in the end be no economic cost to delivering a carbon neutral future.
These are observations not widely recognised to date, and address many of the high level concerns raised in both political and industry circles.
The policy priority: incentivise improvements in those technologies contribute most to abatement and have the best potential for delivering economic benefit
Prioritising the incentives for those technologies that deliver most value – economically as well as environmentally – is clearly the place to start. And it is worth noting that many of those technologies that already pay their way sit in the categories of 'smart'  or 'connected' approaches such as:
Energy efficiency improvements – these include such innovations as Nest for domestic use, as well as transport optimisation solutions
Energy delivery – particularly innovations in energy demand management approaches, including domestic and industrial renewable energy applications as well as smart grid solutions
Energy storage – particularly in the context of multi-purpose local storage solutions which can be used to attenuate peaks in demand for grid supplied energy.
It is now clear that public policy and private investment should focus on those areas that deliver the most quick wins and thereby maintain the economic and political momentum required to deliver a carbon-neutral future.